Designer: Maddalena Tinazzi
Instagram: @amigurumi_amo
Etsy Shop: AmigurumiAmo

Hello Amigurumi Lovers…
One of the free amigurumi crochet patterns we will share today is the snail, whose photos and design belong to AmigurumiAmo. You can learn how to crochet these snail using the free amigurumi pattern. Thanks to Maddalena Tinazzi for this cute snail.
Amigurumi cats, amigurumi dolls, amigurumi dogs, amigurumi unicorns, amigurumi lambs, amigurumi dinosaurs, amigurumi foxes, amigurumi bears, amigurumi giraffes, amigurumi pigs, amigurumi birds, amigurumi penguins, amigurumi panda, amigurumi llama, amigurumi bunny, amigurumi clowns, amigurumi elephants, amigurumi hippos, amigurumi monkeys will not be difficult for you…
Materials
• Crochet hook size: 2,5/ 3 mm
• Cotton yarn in light brown and other colors
• Yarn needle
• Fiberfill stuffing
• Black beads
Abbreviations
Ch: Chain
MR: Magic ring
Sc: Single crochet
FLO: Front loop only
St: Stitch
Slst: Slip stitch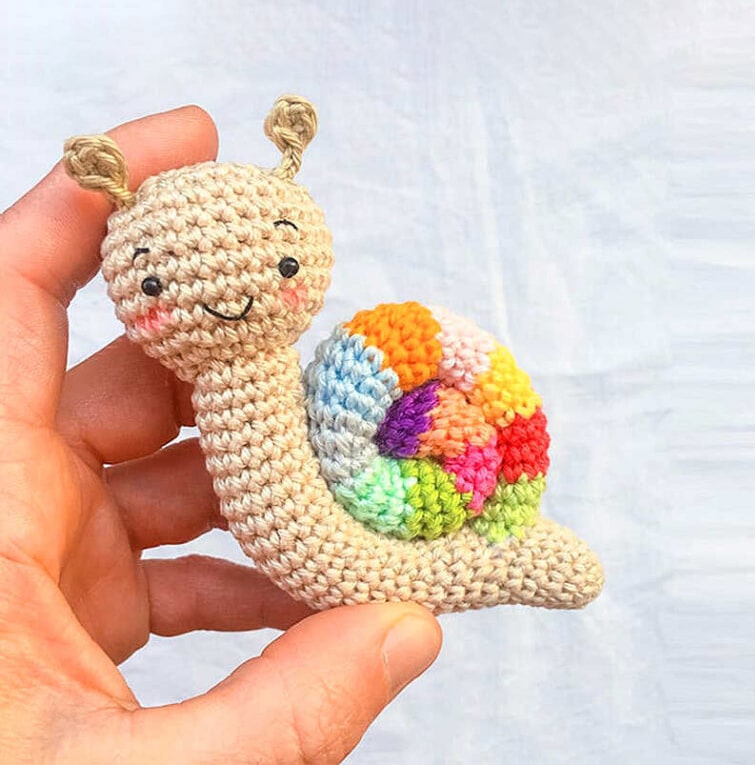 CROCHET AMIGURUMI RAINBOW SNAIL FREE PATTERN
Body
From the end of the body, use light brown.
Rnd 1. 6 sc in MR (6)
Rnd 2. (sc,inc)*3 (9)
Rnd 3. (2sc,inc)*3 (12)
Rnd 4. (3sc,inc)*3 (15)
Rnd 5-7. 15 sc (15)
Rnd 8. 7 ch, skip 7 st, insert the hook in the 8th st and work 8 sc (15)
Rnd 9-28. 15 sc (15)
Rnd 29. slst 15
Rnd 30. (2sc,inc)*5 (20) FLO
Rnd 31. (4sc,inc)*4 (24)
Rnd 32. (3sc,inc)*6 (30)
Rnd 33-37. 30 sc (30)
Rnd 38. (3sc,dec)*6 (24)
Rnd 39. (2sc,dec)*6 (18)
Rnd 40. (sc,dec)*6 (12)
Fill with fiberfill.
Rnd 41. dec*6 (6)
Spiral
I worked three rows for each color for 12 colors in total (12×3=36 total rows).
Work as follows insert the hook in the 6th st (head side) and work * sc, dec* repeat two times more (12).
Work 34 rows and decrease in the last two rows:
Rnd 35. (sc2,dec)*3 (9)
Rnd 36. (sc,dec)*3 (6)
Important: Fill with filler as you go.
Cut off and secure. Wrap around the spiral and secure with some little stitches to the body.
Sew the beads, embroider eyebrows and mouth.
Color the cheeks.
Antennae (Make 2)
Sc 4 in magic ring, slst in the first sc, ch3.
Cut off and leave a long tail for sewing them on the head.Congratulations, you have completed the amigurumi snail pattern.
More amigurumi Snail ideas: