Designer: Bancy M. Sangma
Instagram: @banban_crochets

Hello Amigurumi Lovers…
One of the free amigurumi crochet patterns we will share today is the Cindy the Cow, whose photos and design belong to @banban_crochets. You can learn how to crochet these cow using the free amigurumi pattern. Thanks to Bancy M. Sangma for this cute cow.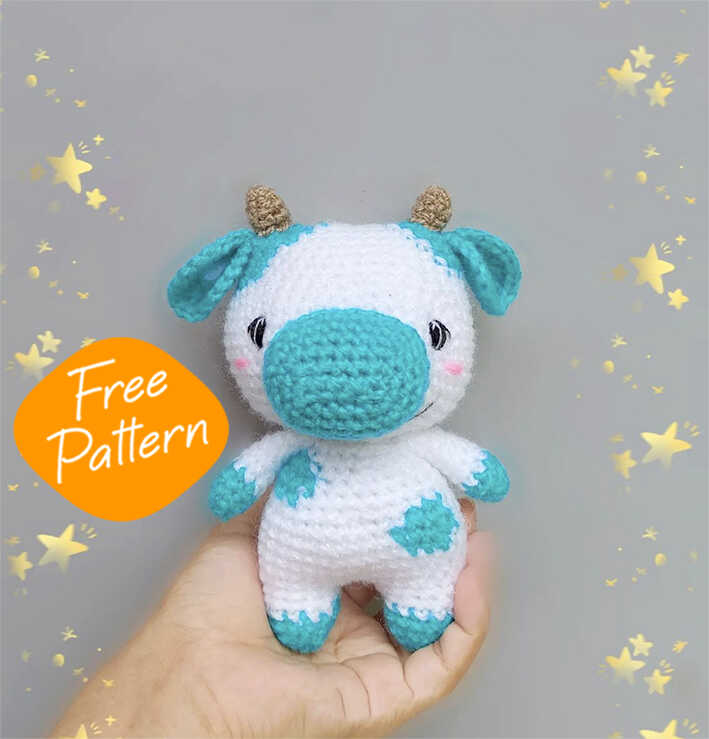 Amigurumi cats, amigurumi dolls, amigurumi dogs, amigurumi unicorns, amigurumi lambs, amigurumi dinosaurs, amigurumi foxes, amigurumi bears, amigurumi giraffes, amigurumi pigs, amigurumi birds, amigurumi penguins, amigurumi panda, amigurumi llama, amigurumi bunny, amigurumi clowns, amigurumi elephants, amigurumi hippos, amigurumi monkeys will not be difficult for you…
Materials and tools
• White, blue and beige yarn
• 4 mm crochet hook
• Black thread
• Needle
• Polyfill
Abbreviations
MR: Magic ring
B- Blue
W- White
Inc: Increase
Dec: Decrease
Ch: Chain
St: Stitch
AMIGURUMI COW FREE PATTERN
Head
Start by making 14 chains.
Rnd 1: B-4ch, W-5ch, B-4ch (14)
(Start from the 2nd st from the hook)
Rnd 2: B-4sc, W-5sc, B-3sc, 3sc in the last st, B-3sc, W-5sc, B-3sc, 1 inc (28)
Rnd 3:B-1 sc,1 inc,1 sc, W-7sc, B-1 sc (1sc,1inc)x3, W-7sc, B-(1sc,1inc)x2 (34)
Rnd 4:B-3sc, W-9sc, B-8sc, W-9sc, B-5sc (34)
Rnd 5:B-2sc, W-11 sc, B-6sc, W-11 sc, B-4sc (34)
Rnd 6:B-1 sc, W-12sc, B-6sc, W-12sc, B-3sc (34)
Rnd 7: W-13sc, B-6sc, W-15sc (34)
Rnd 8: W-14sc, B-4sc, W-16sc (34)
Rnd 9:W-4sc, inc…(40) (use only white from this Rnd)
Rnd 10:5sc, inc x6, 4sc (46)
Rnd 11: 6sc, incx6, 4sc (52)
Rnd 12-16: sc around (52)
Rnd 17: 6sc, decx6, 4sc (46)
Rnd 18: 5sc, decx6, 4sc (40)
Rnd 19: 4sc, dec (34)
Rnd 20: 3sc, dec*6 (28)
Rnd 21. 2sc, dec (21)
Legs and body
Start with blue colour.
Rnd 1: 6sc in mr (6)
Rnd 2: 1 sc, 1 inc x3 (9)
Rnd 3: 2sc, inc x3 (12)
Rnd 4: sc around (12). change to white
Rnd 5-6: sc around (12)
(MAKE 2)
Join both the legs my making 3 chains
Rnd 7: 12sc on the first leg, 3sc on the chain, 12 sc in another leg, 3sc on the chain (30)
Rnd 8: 4sc, incx6 (36)
Rnd 9-10: sc around (36)
Rnd 11. 10 sc, B-3sc, 23 sc (36)
Rnd 12. 9 sc, B-5sc, 22sc (36)
Rnd 13. 10sc, B-3sc, 23 (36)
Rnd 14. White- 4sc, decx6 (30)
Rnd 15. W-18sc, B-3sc, W-9 sc (30)
Rnd 16. W-17sc, B-5sc, W-8sc (30)
Rnd 17. W-(3sc,dec)x6, 3sc, B-dec, 1sc, W-2sc,dec,3sc, dec (24)
Rnd 18. W-sc around (24)
Rnd 19. 2sc, decx6 (18)
Rnd 20. 1sc, decx6 (12)
Arms (Make 2)
Start with blue.
Rnd 1. 6 sc in MR (6)
Rnd 2. 1sc, incx3 (9)
Rnd 3. sc around (9)
Change to white.
Rnd 4-10. sc around (7 rounds) (9)
Ears (Make 2)
Rnd 1. White- 6 sc in MR (6)
Change to blue.
Rnd 2. Ch 1, turn, inc in each st. (12)
Rnd 3. Ch 1, turn, 1 sc inc x 6 (18)
Rnd 4. sc around (18)
Nose
With blue yarn, make 6 chains, start from the 2nd st from the hook.
Rnd 1. 4 sc, 3 sc on the last st, 3 sc, 1 inc in the last st (12)
Rnd 2. inc, 3 sc, 3 inc, 3 sc, 2 inc (18)
Rnd 3. 1 sc, inc, 3 sc, (1sc,inc)*3, 3 sc, (1sc,inc)*2 (24)
Rnd 4-6. sc around (24)
Horns (Make 2)
Start with beige.
Rnd 1. 4 sc in MR (4)
Rnd 2. (1sc,inc)*3 (6)
Rnd 3-4. sc around (6)
More amigurumi cow ideas: