Designer: Tatyana Lysenko
VK: @TatyanaLysenko

Hello Amigurumi Lovers…
One of the free amigurumi crochet patterns we will share today is the wolf, whose photos and design belong to Tatyana Lysenko (blog). You can learn how to crochet these wolf shark using the free amigurumi pattern. Thanks to Tatyana Lysenko for this cute wolf.
Amigurumi cats, amigurumi dolls, amigurumi dogs, amigurumi unicorns, amigurumi lambs, amigurumi dinosaurs, amigurumi foxes, amigurumi bears, amigurumi giraffes, amigurumi pigs, amigurumi birds, amigurumi penguins, amigurumi panda, amigurumi llama, amigurumi bunny, amigurumi clowns, amigurumi elephants, amigurumi hippos, amigurumi monkeys will not be difficult for you…
Abbreviations
sc: single crochet
inc: Increase
dec: decrease
hdc: half double crochet
dc: double crochet
blo: Knitting from the back loop
flo: Knitting from the front loop
ch: Chain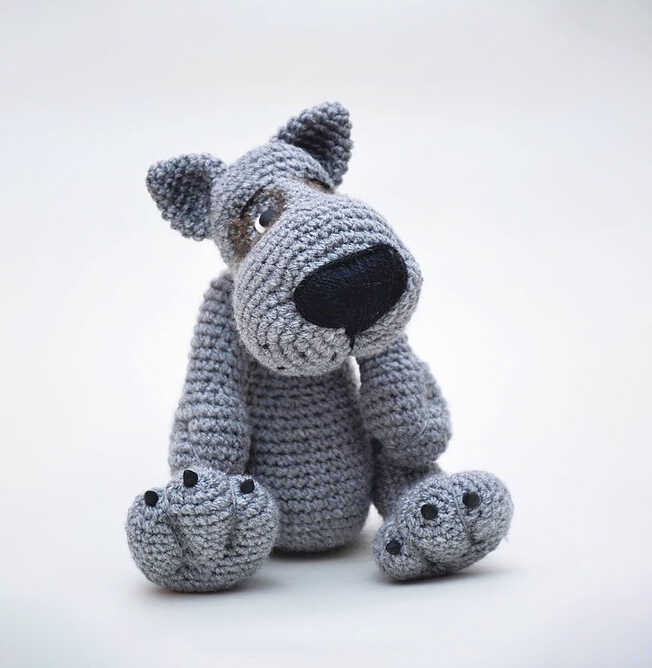 AMIGURUMI CUTE WOLF CROCHET FREE PATTERN
Head
1 row: dial with 2 gray threads and lock in the ring. Knit 6 sc, into magic ring [6 sc]
2 row: inc, repeat 6 times [12sc]
3 row: inc, 1 sc, repeat 6 times [18sc]
4th row: inc, 2 sc, repeat 6 times [24sc]
5 row: inc, 3 sc, repeat 6 times [30sc]
6 row: inc, 4 sc, repeat 6 times [36sc]
7 row: inc, 5 sc, repeat 6 times [42sc]
8-12 rows: no change 42 sc
13 row: dec, 5 sc, repeat 6 times [36 sc]
14 row: 36 sc
15 row: dec, 4 sc, repeat 6 times [30 sc]
16 row: 30 sc
17 row: inc, 4 sc, repeat 6 times [36 sc]
18 row: inc, 1 sc, inc, 33 sc [38 sc]
19 row: inc, 3 sc, inc, 33 sc [40 sc]
20 row: 40 sc
21 rows: 3 sc, inc, inc, 3 sc, 32 sc [42 sc]
22 row: 42 sc unchanged
23 row: dec, 5 sc, repeat 6 times [36 sc]
24 row: dec, 4 sc, repeat 6 times [30 sc]
25 row: dec, 3 sc, repeat 6 times [24 sc]
26 row: dec, 2 sc, repeat 6 times [18 sc]
27 row: dec, 1 sc, repeat 6 times [12 sc]
28 row: 6 decs
29 row: close
Body
1 row: dial with 2 gray threads and lock in the ring. Knit 6 sc, into magic ring [6 sc]
2 row: inc, repeat 6 times [12sc]
3 row: inc, 1 sc, repeat 6 times [18sc]
4th row: inc, 2 sc, repeat 6 times [24sc]
5 row: inc, 3 sc, repeat 6 times [30sc]
6 row: inc, 4 sc, repeat 6 times [36sc]
7 row: inc, 5 sc, repeat 6 times [42sc]
8-14 rows: no change 42 sc
15 row: dec, 5 sc, repeat 6 times [36 sc]
16 row: 36 sc, unchanged
17 row: 4 decs, 28 sc, [32 sc]
18 row: 32 sc, begin to fill
19 row: dec, 14 sc, dec, 14 sc [30 sc]
20 row: dec, 4 sc, repeat 6 times [24 sc]
21-23 rows: 24 sc
24 row: dec, 4 sc, repeat 4 times [20 sc]
25-27 rows: 20 sc
28 row: dec, 4 sc, repeat 4 times [16 sc]
29-30 rows: 16 sc, leave the thread for sewing on the head
Arms
1 row: dial with a gray thread 2 ch and close in a ring. Knit
6 sc into magic ring [6 sc]
2 row: 6 inc, [12sc]
3 row: inc, 1 sc, repeat 6 times [18sc]
4th row: inc, 2 sc, repeat 6 times [24sc]
5-7 rows: 24 sc
8 row: dec, 1 sc, repeat 8 times [16sc]
9-18 rows: 16 sc
19 row: 1 sc and dec
20 row6 close
Legs
1 row: dial with 2 gray threads and lock in the ring. Knit 6 sc, into magic ring [6 sc]
2 row: inc, repeat 6 times [12sc]
3 row: inc, 1 sc, repeat 6 times [18sc]
4-16 rows: 18 sc, fill, leave thread for sewing
Feet
1 row: dial with 2 gray threads and lock in the ring. Knit 6 sc, into magic ring [6 sc]
2 row: inc, repeat 6 times [12sc]
3 row: inc, 1 sc, repeat 6 times [18sc]
4th row: inc, 2 sc, repeat 6 times [24sc]
5 row: inc, 11 sc, inc, 11 sc [26sc]
6 row: inc, 12 sc, inc, 12 sc, [28sc]
7-11 rows: 28 sc
12 row: dec, 12 sc, dec, 12 sc [26sc]
13 row: dec, 11 sc, dec, 11 sc [24sc]
14 row: dec, 10 sc, dec, 10 sc [22sc]
15 row: dec, 1 sc, repeat 7 times, 1 sc [15sc]
16 row: dec, 1 sc, repeat 5 times [10
17 row: 5 decs, pull off and close the row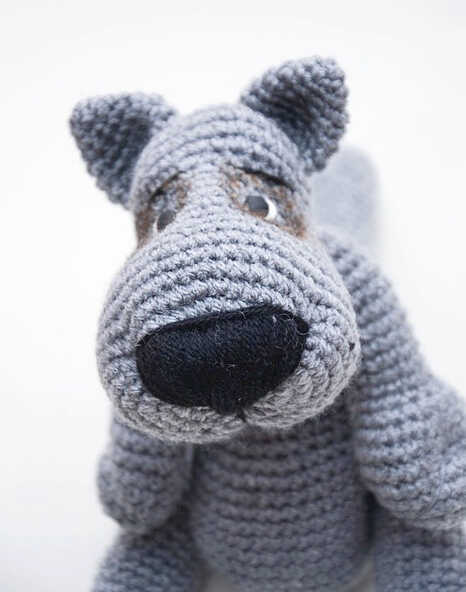 Ears
1 row: dial with 2 gray threads and lock in the ring.
Knit 4 sc, into magic ring [4 sc]
2 row: inc, 3 sc [5 sc]
3 row: inc, 4 sc [6 sc]
4th row: inc and 1 sc, [9 sc]
5 row: 9 sc
6 row: inc, 2 sc [12 sc]
7 row: 12 sc
8 row: inc, 5 sc, inc, 5 sc [14 sc]
9 row: 14 sc, leave the thread for sewing
Tail
1 row: dial with 2 gray threads and lock in the ring. Knit 6 sc, into magic ring [6 sc]
2 row: inc, repeat 6 times [12sc]
3 row: inc, 1 sc, repeat 6 times [18sc]
4 row: 18 sc
5 row: dec, 16 sc, (17 sc)
6 row: 17 sc
7 row: dec, 15 sc (16 sc)
8 row: 16 sc
9 row: dec, 14 sc (15 sc)
10 row: 15 sc
11 row: dec, 13 sc (14 sc)
12 row: 14 sc
13 row: dec, 12 sc (13 sc)
14-16 row: 13 sc
17 sc: dec, 11 sc (12 sc)
18-20 rows: 12 sc
21 row: dec, 10 sc (11 sc)
22-24 row: 11 sc
25 row: dec, 9 sc (10 sc)
26 row: 10 sc
More amigurumi wolf ideas: